About Our Dental Office – Lake Nona Region
Convenient, Quality Dental Care
Here at the Lake Nona Dental Group, we aim to provide the same quality of care that you might find at a high-end dental office while also offering the convenience of a small family dental office. Thanks to our expertly trained dental team, our cutting-edge technology, and our state-of-the-art facility, we can provide the comprehensive care you deserve while treating you like part of the family. Call us today to set up an appointment or ask a question about our dental office.
Two Convenient Locations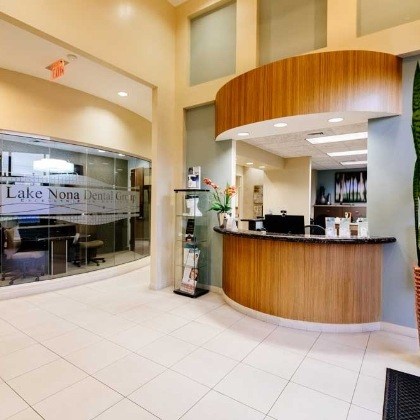 To accommodate as many patients as possible, we have two conveniently located dental offices to choose from: our Medical City location on Moss Park Road, and our Sunbridge location on Jack Brack Road. The accessibility of these locations is key for patients who want to easily be able to get to their appointments or need to get care fast in the event of an oral health emergency. Both dental offices offer a highly relaxing and comfortable environment along with state-of-the-art technology.
One-Stop Convenience
Our doctors have been thoroughly trained in all aspects of dentistry. This includes preventive care, restorative care, cosmetic dentistry, sleep apnea therapy, and orthodontics. In short, if you have any kind of oral health problem, want to enhance the appearance of your teeth, or are just looking for a new dentist for your regular checkups and cleanings, chances are that you can find what you are looking for here at Lake Nova Dental Group. Our comprehensive services mean we very rarely refer patients out.
Explore All Our Dental Services
Modern Technology & Comforts
We keep a close eye on any new advancements in dental technology, and when we see something that could make life better for our patients, we adopt it into our dental office. For example, instead of using messy putty to make molds of your teeth to design crowns and other restorations, we can quickly and comfortably scan your mouth to create a much more accurate digital model. Keeping up to date with the latest technology doesn't just make our care more efficient; it can also make your visits more pleasant in general.
Explore Our Dental Technology & Comforts
All Ages Welcome
We know how much more convenient it is for families to have a single dentist instead of several separate dentists. We're happy to see children of all ages; there are few things better than seeing young smiles grow as we keep them healthy and beautiful. Call our dental office now to schedule an age-appropriate cleaning and checkup for your little one, and don't be afraid to ask questions if there's something you want to know about your child's dental development.
Learn About Preventive Dentistry for Families
From Cleanings to Makeovers
Making sure the teeth and gums are healthy is our top priority. Once we've done that, though, we can make some touch-ups to your smile so that you can feel completely confident in showing it off during important social gatherings or business events. With so many options to choose from – from veneers to professional whitening to BOTOX® – you can give your entire grin a makeover so that you no longer have reason to be embarrassed whenever you see yourself in photos.
Explore Your Cosmetic Dentistry Options
Flexible Payment Options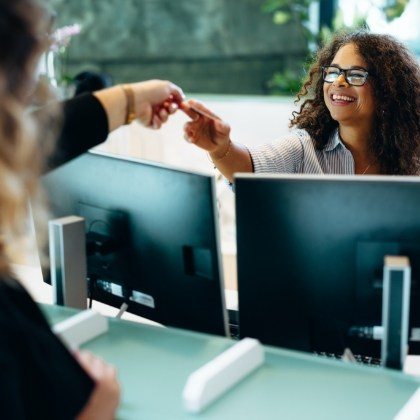 Paying for dental care doesn't have to be stressful. We're happy to take several dental insurance plans or accept third-party financing to help you manage the out-of-pocket costs of your dental care. You can also sign up for our in-house membership plan to receive discounts on various services, including those that might not receive coverage underneath a typical dental plan. Finally, we offer an online payment option for the convenience of you and your loved ones.