Dental Implants – Lake Nona, FL
Modern, State-of-the-Art Solutions for Tooth Loss
Many patients who are missing teeth are good candidates for a modern tooth replacement treatment utilizing dental implants. Our team uses 3D technology and guided implant surgery as well as other high-tech methods to make the process faster and safer and minimize any risk of complications. To learn more about dental implants from our Lake Nona, FL dentist, we welcome you to call our dental office today to schedule a consultation with our team.
Why Choose Lake Nona Dental Group for Dental Implants?
Start-to-Finish Dental Implant Treatment
Precise Guided Implant Surgery
High-Quality Imaging Technology
What are Dental Implants?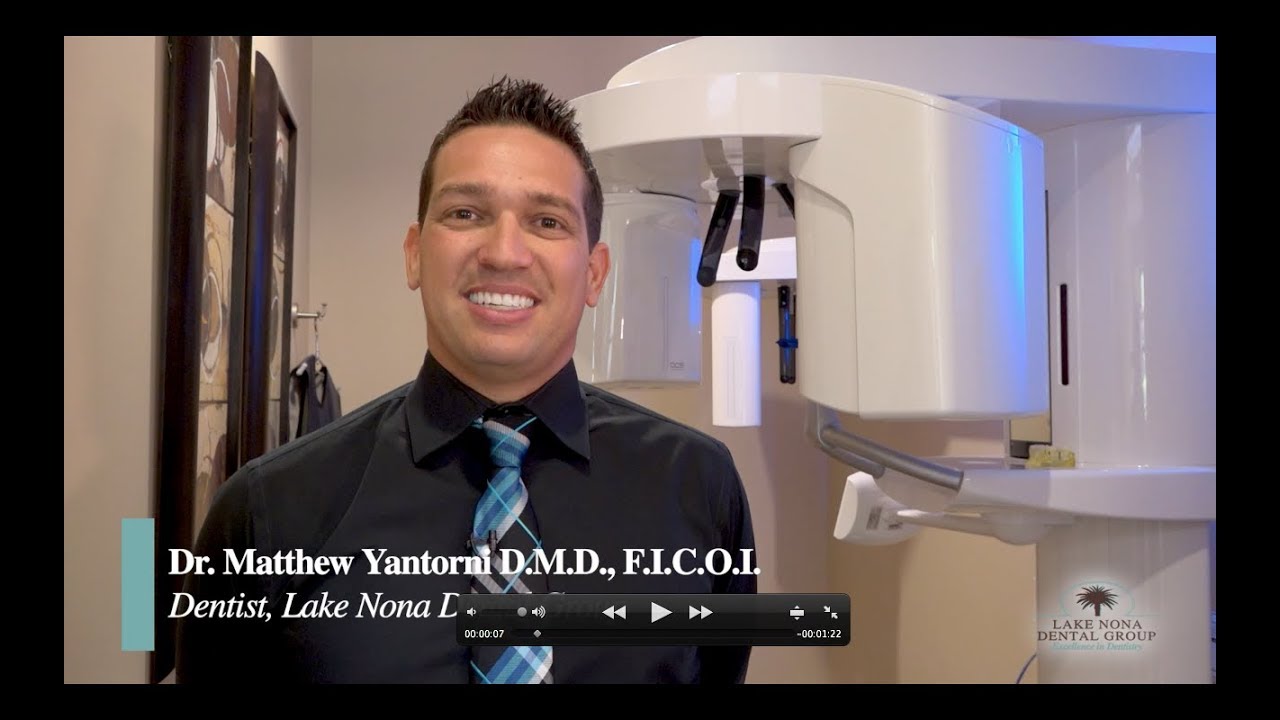 Dental implants themselves are small titanium posts that are surgically placed below the gumline to replace the missing root structure of teeth. Due to their biocompatible nature, they're able to chemically fuse with the jawbone through a process called osseointegration. This provides the restoration (crown, bridge, or denture) with a sturdy foundation to be attached to. The result is unwavering prosthetics that provide you with unmatched benefits.
The 4-Step Dental Implant Process
Initial Consultation. We'll take X-rays of your mouth and help determine whether you're a good candidate for the procedure. If you are, we'll create a treatment plan and walk you through it so you know what to expect throughout the rest of the process.
Dental Implant Surgery. We're able to complete the entire dental implant surgery from the comfort of our own dental office.
Osseointegration & Abutment Placement. Once your implants are placed, they'll undergo a process called osseointegration over the next three to six months, where they fuse with the jawbone. Then, we'll attach abutments to the implants.
Placement of the Final Restoration. Your final restoration will be secured to the abutments, which are small, metal connector pieces.
Benefits of Dental Implants
Dental implants offer a wide array of unique benefits, which is what makes them such a popular treatment choice to replace missing teeth. Because they fuse with the jawbone and replace the entire missing root structure of teeth, your bone structure won't deteriorate over time. This will also keep your facial appearance from changing and provide your restoration with a strong foundation to be attached to, making eating and speaking easy.
Who Dental Implants Can Help
The only way to learn whether dental implants in Lake Nona can help you is to schedule a consultation with a team of specialists, like ours! We'll conduct a thorough examination of your mouth and take X-rays to determine important factors that will help us know whether you require preparatory procedures. Then, if you're a good candidate, we can walk you through what the rest of the dental implant process will look like. Below, we've outlined how we can replace any number of missing teeth with this modern treatment.
Missing Single Tooth
For one missing tooth, we'll place a dental implant below the gumline and into the jawbone. Once it has fused with the bone and the abutment has been placed, we'll attach a customized dental crown to the implant to fill the gap in your smile.
Missing Multiple Teeth
Unlike traditional dental bridges, securing a bridge to implant posts doesn't require the alteration of any of your surrounding healthy teeth, allowing you to preserve and repair your smile. Instead, we'll attach a dental bridge to two dental implant posts placed on either side of the gap in your smile that will hold the prosthetic in place.
Missing All of Your Teeth
Whether you currently have dentures or are looking for a new solution to replace your missing teeth, implant dentures can provide you with outstanding results. We'll secure the denture to anywhere from four to eight implant posts strategically placed across your arch. Once attached, the prosthetic will allow you to eat and speak with ease—no denture adhesive or slipping and shifting to worry about.
Understanding the Cost of Dental Implants
Each dental implant procedure that we do is different, which is why there's no set price associated with the treatment. Based on several factors that we'll determine during your consultation, like how many dental implants you'll need to have placed and whether you require any preparatory treatments, we'll be able to give you a rundown of the cost to restore your smile. If you have any questions, please don't hesitate to ask one of our friendly team members!