Veneers – Lake Nona, FL
Make the Smile of Your Dreams a Reality
While watching a red-carpet event, you probably marvel at the perfect smile every celebrity seems to have. You may be unhappy with your own stained, discolored, uneven, or misaligned teeth. Well, what if we told you that our team at Lake Nona Dental Group can give you a look that'll make you feel like a star? Thanks to veneers, you can make the smile of your dreams a reality! It's a fast and effective way to improve your appearance drastically. If you'd like to learn more about this cosmetic service, continue reading or call our office today!
Why Choose Lake Nona Dental Group For Veneers?
Free Exam & X-Rays For New Patients
Get Your Smile Upgrade In Two Appointments
Financing Options Make Cost Manageable
What Are Dental Veneers?
Veneers are ultra-thin sheaths of dental-grade porcelain or ceramic. Each shell is bonded to the front-facing portions of your teeth, masking any imperfection from view. It's a minimally invasive cosmetic treatment that can be completed in two office visits. What's more, it's extremely versatile and can address a range of issues including staining, discoloration, gaps, cracks, and misalignment. Veneers in Lake Nona are also stain-resistant, meaning your new smile can gleam for many years to come with proper care and maintenance.
The Process of Getting Veneers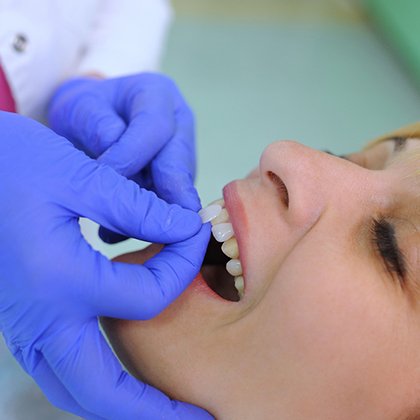 The first step on your journey toward a flawless smile is a consultation with our dentist at Lake Nona Dental Group. We'll conduct an oral examination, review your medical history, and learn about your goals to determine whether veneers are right for you. Once we're ready to move forward with the process, we'll schedule your first phase of treatment.
At your initial appointment, your teeth will be cleaned and prepared for veneer placement. Our cosmetic dentist in Lake Nona will remove a thin layer of enamel to ensure the restorations sit properly against your teeth. Then, digital impressions will be taken and sent to our trusted dental laboratory. They'll craft your permanent veneers using the specifications provided.
After about two weeks, your veneers should be ready, and you'll return to our office for placement. Our dentist will make any final adjustments to their size, shape, and color if needed. Once they're permanently bonded to your teeth, you'll be ready to show off your brand-new grin that same day!
The Benefits of Veneers
Choosing to improve your smile with veneers is an excellent decision because you can enjoy a range of benefits including:
Instant improvements to the size, shape, and color of your teeth
Minimally invasive treatment
Natural-looking results
Long lifespan (up to 15 years with proper care and maintenance)
Results in as few as two appointments