Cosmetic Dentistry – Lake Nona Region
Life-Changing, Smile-Enhancing Dentistry
Countless patients are affected by imperfections like stained and damaged teeth, causing their self-confidence to decline over time. Fortunately, we offer several custom-tailored procedures to brighten, even-out, and complete your smile. If you're wondering what treatment can help address your unique needs, we welcome you to schedule a consultation with our team today to start your journey towards a new-and-improved smile with cosmetic dentistry in the Lake Nona Region!
Why Choose Lake Nona Dental Group for Cosmetic Dentistry?
Family-Friendly Dental Office
Additional Financing Available
Highly Experienced & Knowledgeable Team
Porcelain Veneers
Dental veneers are a versatile cosmetic solution that can address a wide array of imperfections with a single procedure. Whether you want to brighten your teeth, fix chips and cracked teeth, or address slight misalignment, these thin shells of porcelain or ceramic can conceal imperfections and reveal an even, symmetrical grin. Plus, with the proper maintenance, veneers can last for up to 25 years or more!
Metal-Free Dental Crowns
In the past, dentists would place metal crowns that would stick out next to the natural, surrounding teeth in the smile. Today, our team utilizes custom-shaded, durable, and biocompatible materials like zirconia and Emax (ceramic) to craft restorations. They stand the test of time as well as enhance the overall appearance of your smile by restoring the appearance and structure of teeth that are severely damaged, misshapen, or have been treated with root canal therapy or a large filling.
Cosmetic Dental Bonding
One of the most cost-effective and simple cosmetic solutions that we offer for teeth that are chipped, broken, gapped, or discolored is dental bonding. Using the same composite resin material that we use to fill cavities, we can sculpt the missing portion of your tooth and adhere it to your natural enamel using a special UV light. Once the resin is hardened, it will be able to function like your natural tooth—just be mindful of eating anything especially hard or chewy.
Learn More About Cosmetic Dental Bonding
KöR Teeth Whitening
We offer fast and reliable in-office treatment KöR teeth whitening as well as Zoom Day & Night White take-home kits. All of our whitening treatments use professional-grade, high-quality ingredients that have been proven to provide bright and lasting results that you can rely on. If you're looking for faster results, we recommend our 1-hour in-office treatment; if you're looking for convenience, try our take-home kit that will be more effective than any product you can purchase in a store!
Gum Recontouring
When you look at your smile in the mirror, do you feel like it's off balance because its most noticeable feature is your gums? Gummy smiles are a common cosmetic issue that we treat at Lake Nona Dental Group. Using our soft tissue laser, we're able to gently and precisely remove overgrown gum tissue, revealing more of your tooth structure and making your smile appear more symmetrical. The best part is, the results are permanent!
Smile Makeovers
If your smile has numerous flaws that would require multiple cosmetic treatments to address, a smile makeover in the Lake Nona Region is likely the right choice for you. During this process, our team will assess your needs and help you determine what cosmetic and restorative treatments you'll require to reach your smile goals. We'll work with your timeline and budget to create a makeover plan that's right for you.
Learn More About Smile Makeovers
BOTOX®
Thanks to Dr. Oslund's advanced training, we're also able to offer BOTOX alongside our regular cosmetic treatments. This helps reduce the appearance of fine lines and wrinkles surrounding the smile, enhancing your overall appearance and turning back time on markers of aging. We also use BOTOX to address TMJ pain. By placing injections around the muscles and joints that help your jaw function, we can allow them to relax, providing you with lasting relief.
Understanding the Cost of Cosmetic Dentistry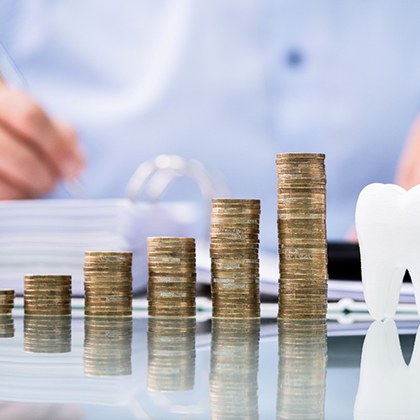 Some people are reluctant to commit to cosmetic dentistry because of cost concerns. While it is not covered by dental insurance in most cases, as your cosmetic dentist in Lake Nona, we will gladly help you figure out your best course of action financially and which treatments make the most sense accordingly. Cosmetic services have varying price points, so it's important to find the solution that best suits your grin as well as your wallet.
Which Cosmetic Dental Service Is Right for Me?
Prospective cosmetic dentistry patients are often trying to either whiten their teeth, straighten them, change their size/shape, or achieve some combination of the three. Once our cosmetic dentist examines your teeth, they can help you explore solutions that make sense for your goals, such as:
Teeth Whitening – A midrange option regarding the cost that takes two weeks to do at home or one office visit. In-office treatment is more expensive but also offers optimal results. Ideal to brighten your smile but cannot alter your tooth shape or position.
Veneers – A more costly option but capable of transforming your smile in multiple ways at once. They can last for more than a decade with proper care. They save time in the long run and are more resistant to stains than your natural teeth.
Metal-Free Dental Crowns – A lower-cost option that is shaded to closely match your natural enamel. They eliminate sensitivity to temperature changes and can last 15 years or more with proper care. A significant improvement over traditional metal crowns.
Direct Bonding – If you have minor imperfections you want to address, direct bonding may be the ideal solution for you. It's a fast, efficient, and cost-effective way to improve tooth shape, size, and color. Although this option is affordable, it will need to be redone every few years.
Why Is Cosmetic Dentistry Worth the Investment?
The cost of cosmetic dentistry in Lake Nona can vary greatly depending on the treatment you select, but your investment will continue to pay dividends for many years to come. After all, it's tough to put a price on increased confidence that can lead to an improved quality of life. You can look younger with treatments like teeth whitening or veneers that brighten your smile. And don't discount improvements to your oral health when you select metal-free dental crowns. Imagine upgrading your relationships, social life, professional achievements, and health across the board!
How to Make Cosmetic Dentistry Affordable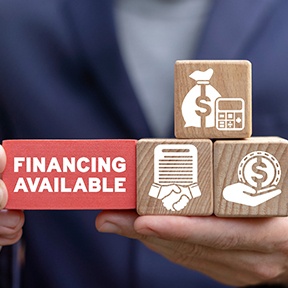 Purely aesthetic dental care is generally not covered by dental insurance, meaning you'll have to find an alternative way to pay for your treatment. Fortunately, we offer third-party financing to patients who wish to pursue elective cosmetic dentistry procedures. You can select a payment plan that breaks up the cost into monthly installments that you can pay back with little (if any) interest. You choose from CareCredit, LendingClub, or Proceed Finance.
Are you ready to make your dream smile a reality? Contact our office to learn more about these treatments and related pricing information during a cosmetic consultation. It's our mission to help you accomplish your goals while being mindful of your budget along the way.
Cosmetic Dentistry FAQs
Feeling disappointed in your smile when you look in the mirror? Don't get down on yourself – it's not uncommon and you have the opportunity to make a change! Thanks to your cosmetic dentist in Lake Nona, you can gain a grin you want to share with the world. If you've never received cosmetic dental treatment before, it's logical that you want to learn more about it. To help you out, our team at Lake Nona Dental Group has decided to answer some frequently asked questions from past patients. If you don't see your question below, contact our office!
How Do I Know If I Need Cosmetic Dentistry?
Honestly, there's a particular treatment available for anyone unhappy with their smile. If you want whiter teeth, professional teeth whitening is an option you can explore. If you have chipped or cracked teeth, talk to us about getting veneers or dental bonding. Rest assured – there's a cosmetic solution for almost every problem! The only way to know for sure whether you're eligible for the treatment you seek is to attend a consultation with our team. We'll recommend specific procedures based on the changes you want to make.
Am I Eligible for Cosmetic Dentistry?
Not everyone makes a good candidate for cosmetic dental work. To qualify, you must be free of cavities, gum disease, and other health-related issues. Once your dental health troubles have been addressed, we can revisit cosmetic treatment options. To see if you are eligible for cosmetic dentistry, you'll first need to meet with us for a consultation. After a thorough examination, we can tell you whether you are clear to move forward, and it offers the perfect opportunity to ask any questions you might have!
Does Cosmetic Dentistry Hurt?
Many patients are hesitant to receive cosmetic treatment because they're worried it will be painful. Just know that we'll prioritize making your experience as comfortable as possible! Some services like teeth whitening are noninvasive, meaning you shouldn't even need a local anesthetic. However, treatments like veneers will require your dentist to numb your mouth beforehand. Although you might feel mild soreness and discomfort in the first few days following your procedure, you can easily manage it by taking over-the-counter pain medication or using a cold compress.
How Long Does Cosmetic Dentistry Last?
It depends on the type of cosmetic treatment you choose. Some options last much longer than others, such as veneers or metal-free dental crowns which have a lifespan of 15 years or more with proper care. With at-home teeth whitening, once you reach your desired shade, you use your kit every 3-4 weeks for touchups to maintain your bright smile. The lifespan of dental bonding is generally 5-10 years. It's key to remember that oral hygiene, health, and lifestyle habits all impact the lifespan of any cosmetic dentistry option.