Smile Makeover – Lake Nona Region, FL
Giving Your Smile the Update It Deserves
At Lake Nona Dental Group, our team of highly skilled dentists want every patient to embrace a beautiful, one-of-a-kind smile. When years of staining, chips, and even misshapen teeth cause an individual to feel embarrassed by their appearance, it is our job to give them hope even when it feels like there is none. With smile makeovers in the Lake Nona Region, we can create personalized treatment plans that target problem areas and deliver transformational results. Call us today so that we can develop a personalized plan just for you.
How Does a Smile Makeover Work?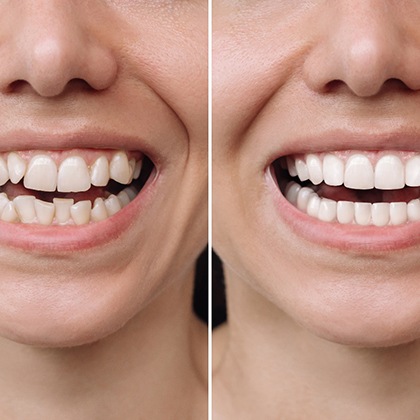 A smile makeover combines two or more cosmetic dental treatments into one streamlined plan. Instead of addressing each issue separately, which can cost significantly more in the long run, we integrate multiple services to ensure a cohesive approach.
Depending on the problem areas, your smile makeover will look vastly different than someone else's. You can expect that we will discuss the preferred services that we believe will help you reach your smile goals. Some of the treatment options we may recommend include:
Veneers
Metal-Free Dental Crowns
Cosmetic Dental Bonding
Teeth Whitening
Gum Recontouring
BOTOX
The Benefits of Getting a Smile Makeover
When it comes to choosing a smile makeover to transform your appearance, you may not realize the enormity of the process and its many benefits. They can include:
The opportunity to once again feel confident in your smile.
Being able to eat your favorite foods without worrying about further damage to your teeth.
A fully customizable treatment plan that meets your unique needs.
The ability to speak clearly and be unashamed of your smile when you talk.
Better oral health because of the lack of spacing between teeth or overcrowding.
An approach that helps you to save money by combining treatments.
Understanding the Cost of a Smile Makeover
Each individual who seeks a smile makeover can expect to pay a different price. The cost of a smile makeover is personalized based on the services you receive. Maybe you need preliminary care before starting your cosmetic dental treatments, or maybe you only need two services instead of three. No matter the situation, you can expect that our team will go the extra mile to help you save on your dental care. Because dental insurance is unlikely to pay for most cosmetic treatments, we can deliver alternative solutions to help keep your out-of-pocket expenses as low as possible.
Smile Makeover FAQs
It is common to have many questions when considering such a comprehensive treatment plan as a smile makeover. The extent to which this type of care can be required typically leads to patients inquiring about the process, post-procedural recovery, and how long the results will last. At Lake Nona Dental Group, we aim to deliver the answers you deserve, so feel free to spend a few moments reviewing the FAQs listed below and call us if you have any additional questions.
How many treatments can you include in a smile makeover?
When meeting with your cosmetic dentist, you can expect to undergo a thorough exam to determine the type of imperfections found on your teeth and gums as well as which services will help you to reach your smile goals.
Every patient is different, so it may be that your dentist only recommends gum recontouring and teeth whitening to give you a showstopping appearance. Or you might benefit from custom veneers, gum recontouring, and teeth whitening. Ultimately, there are multiple ways to achieve a beautiful look.
Do smile makeovers have an age limit?
When it comes to children or teenagers inquiring about a smile makeover, it's unlikely that a dentist will move forward with treatment. While it is possible for older teens to receive certain types of cosmetic care (i.e., metal-free dental crowns, teeth whitening), the teeth, bites, and gums of younger patients are still developing. This is why smile makeovers tend to be recommended for adult patients.
Is a smile makeover covered by insurance?
Most dental insurance companies are unlikely to offer any kind of coverage for cosmetic-based services. These are commonly viewed as "luxury" or "elective" forms of treatment that have nothing to do with improving the health of your mouth and/or body. However, there are some exceptions. Should you choose a metal-free dental crown along with gum recontouring, it may be partially covered by dental insurance because of the benefits these services can have in treating dental decay or damage as well as lowering the risk of gum disease.
How do you maintain smile makeover results?
Once you commit to receiving a smile makeover, you'll need to make sure that you take proper care of your teeth and gums for the long haul. This is your new and improved smile, and it's worth the time and money invested.
To ensure that your results last as long as possible, make sure to:
Adopt good oral hygiene habits at home. This includes brushing twice a day with a soft-bristled toothbrush and fluoride toothpaste (if possible), flossing after every meal, and rinsing with an ADA-approved mouthwash.
Continue to see your dentist every six months for regular dental checkups and teeth cleanings.
Give up unhealthy habits like smoking, drinking alcohol, nail-biting, eating ice, and using your teeth as tools.
Wear a mouthguard if you play sports or struggle with grinding your teeth while you sleep.
Eat a healthy diet full of nutrient-rich fruits and vegetables, lean meats, low-fat dairy, and leafy greens.