Periodontal Disease Treatment – Lake Nona Region
Preserving Your Smile by
Tackling Gum Disease
While our primary goal is to prevent gum disease from ever developing with routine preventive care, many patients develop this oral condition because of poor oral hygiene or as a result of underlying health conditions. Fortunately, no matter how you get gum disease, we offer several specialized treatment options to minimize the effects of the symptoms and preserve your smile. If you notice bleeding gums, gum recession, or chronic bad breath, schedule an appointment with our team today to see whether your symptoms could be related to gum disease and learn more about options for periodontal disease treatment in the Lake Nona Region.
Why Choose Lake Nona Dental Group for Periodontal Disease Treatment?
Specialized Laser Periodontal Therapy
Team of Highly
Experienced Dentists
We Treat Children
& Adults
Scaling &
Root Planing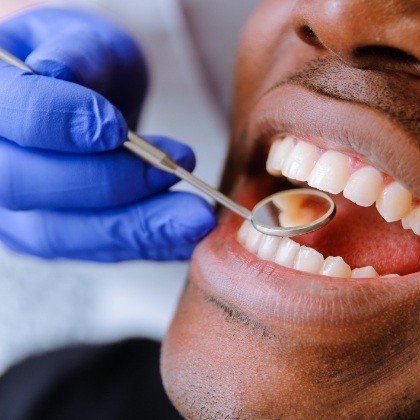 Scaling and root planing is a two-step process that typically takes place over the course of one to two visits to our dental office. First, we'll thoroughly clear away all plaque and tartar from the surface of your teeth, as far down as the pockets of your gums. Then, we'll smooth out the roots of your teeth, removing any hardened deposits of bacteria. This will allow your gums to healthily reattach to your teeth, providing them with necessary protection.
Laser Periodontal Therapy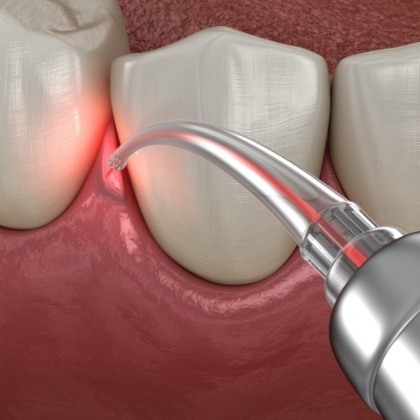 Our very own Dr. Yantorni is specially trained to provide laser periodontal therapy, which is a highly effective way to combat the effects of gum disease and keep it from progressing. Using a soft tissue laser, we can remove any severely damaged gum tissue, only leaving the healthy gums behind. We can also use our Nd/Yag Laser to get rid of stubborn, hardened deposits of bacteria and tartar to control and minimize the effects of gum disease.
Arestin
Antibiotic Therapy
Alongside scaling and root planing and laser periodontal therapy, we also typically recommend Arestin antibiotic therapy. Instead of prescribing a pill or medicated mouthwash to use, we place small microspheres into the pockets of your gums that will gradually release antibiotics over the course of 14 days to target the origin of your infection. Once the treatment is complete, we may ask you to pop back into our dental office for a quick follow-up to view your gums.