Sedation Dentistry – Lake Nona, FL
Creating Comfortable Experiences for All Patients
At Lake Nona Dental Group, we understand that visiting the dentist's office can be a difficult task for many patients. With painful or fearful experiences at other practices keeping children and adults from seeking the necessary care for good oral health, we aim to minimize fears and instead, produce positive outcomes. This is why we offer sedation dentistry in the form of nitrous oxide and oral conscious sedation. No matter which one you receive, you can trust that our sedation dentist in Lake Nona will keep you calm and comfortable throughout your visit, helping you to embrace a healthier smile without anxiety. Call us today to learn if you are a good candidate for sedation.
Why Visit Lake Nona Dental Group for Sedation Dentistry?
We Welcome Your Dental Insurance
Compassionate & Caring Dental Team
We Treat Patients of All Ages
Nitrous Oxide
Nitrous oxide is also known as laughing gas and is the mildest form of sedation available. Administered via a mask that is placed over your nose, you are instructed to inhale the nitrous oxide and oxygen mixture. Within minutes, you will feel completely relaxed and almost euphoric. You may even feel slightly warm but fully at ease.
The use of nitrous oxide is great for routine checkups and cleanings or even complex procedures that require a more invasive approach. Ultimately, patients who have a difficult time receiving local anesthesia can benefit from this type of sedation.
One unique aspect of nitrous oxide is that it takes only minutes to take effect and quickly dissipates as soon as the mask is removed. Patients who receive this type of sedation can expect to drive home or back to work immediately following their appointment. With no lasting side effects, it can be one of the best options to help those who struggle to visit the dentist even for the least invasive forms of treatment.
Who Is A Good Candidate for Nitrous Oxide?
If you are considering nitrous oxide for an upcoming appointment, you'll be pleased to learn that most patients are deemed good candidates. However, it is necessary to meet with a sedation dentist to determine if there are any medications you are taking that might interfere or counteract with the sedation.
If you suffer from any of the following, there is a good chance you'll be eligible to receive nitrous oxide:
Sensitive gag reflex
Difficulty receiving local anesthesia and getting numb from it
Mild or moderate dental anxiety
Traumatic dental experience
Difficulty sitting for prolonged periods
Tooth sensitivity
Fear of needles
How Does Nitrous Oxide Work?
Combining nitrous oxide with oxygen, the gas mixture is inhaled through a nasal mask that is placed over your nose when treatment begins. In no time at all, you will experience the effects of feeling warm, relaxed, and fully at ease. While our team performs the necessary treatment, you will remain free of pain and discomfort and experience no anxiety at all.
It is possible that you may feel tired; however, this is normal, but you will not be unconscious. Instead, you'll remain cognizant enough of what is happening around you that you'll be able to respond to cues from our dental team.
Aftercare for Nitrous Oxide
One of the greatest benefits associated with nitrous oxide is its ability to get patients back to their normal routines quickly. As soon as the mask is removed and the gas is turned off, you'll begin to inhale regular oxygen, allowing the effects to dissipate quickly. Before you know it, you'll be free to leave and escort yourself back to work or home without experiencing any side effects.
Oral Conscious Sedation
Oral conscious sedation uses pill medication that is prescribed by our team. When taken before your appointment, you can expect that by the time you reach our office, you will feel more at ease and ready to receive treatment.
Because the effects of oral conscious sedation take time to become fully apparent, you will need to have someone escort you to and from your appointment, as the effects also take time to wear off.
This type of sedation is ideal for anyone who suffers from moderate dental anxiety and must undergo multiple procedures during one visit. Although sitting or lying down for extended periods may be difficult, this type of sedation can help make it possible should one or more treatments be required in a single appointment.
For anyone who undergoes oral conscious sedation, a few of its unique benefits include an easy-to-take medication as well as the ability to remember little or nothing at all. This can cause many patients to breathe a sigh of relief because of the unhealthy and fearful experiences at other practices.
Am I a Good Candidate for Sedation Dentistry?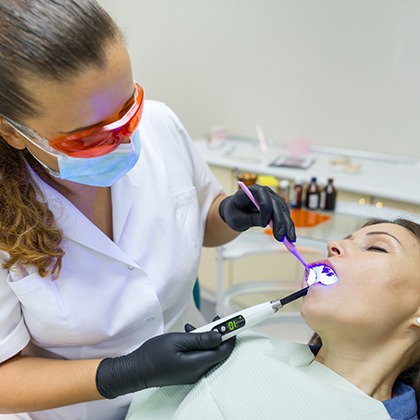 The only way to determine if you're a candidate for sedation dentistry is to schedule an appointment for a consultation. It is during this visit that our team will need to review your oral and overall health history as well as go over any medications you're currently taking. Most individuals who have one or more of the following will be eligible for sedation dentistry:
Have a strong gag reflex
Have mild, moderate, or severe dental anxiety
Require extensive and complex dental work
Those who have physical disabilities and are unable to sit in the dentist's chair for prolonged periods
Sedation Dentistry FAQs
Finding a sedation dentist in Lake Nona can be a breeze when you opt to see our professionals at Lake Nona Dental Group. We know you may feel apprehensive and unsure about the idea of nitrous oxide or oral conscious sedation, but it is our goal to help you feel more at ease during every visit. When considering these treatments, we know you probably have many questions, which is why we encourage you to review the following page of information and call us if you do not see your question listed.
Is sedation dentistry safe?
Yes, sedation dentistry can be completely safe as long as it is administered by a professional who knows how to do it and who is fully aware of your oral and overall health. When meeting to discuss your candidacy for sedation, you need to share any current medications you are taking so that it can be determined if nitrous oxide or oral conscious sedation is safe to use. Most patients do not need to worry about this problem, but it is always better to be safe should there be a chance for a possible reaction or complication that might arise.
Are there any side effects associated with sedation dentistry?
Fortunately, nitrous oxide is the mildest form of sedation available, and it is highly unlikely that there be any negative side effects after a patient's appointment. Because the effects wear off quickly once the mask is removed and the gas is turned off, most individuals face no serious issues after an appointment. With oral conscious sedation, some grogginess is possible, as it does take time to wear off. Other possible side effects that can occur include nausea or a headache, but these will often dissipate quickly.
Will I remember anything from my appointment?
Depending on the type of sedation you receive, some do cause slight amnesia, which can be a welcome reality for some patients. Although the two types that we offer will not cause you to fall asleep, you will remain fully relaxed throughout your appointment. With oral conscious sedation, you'll be less likely to remember much from your visit, but you do not need to worry about this being a lasting side effect. It is more of a temporary and positive result because so many individuals fear visiting the dentist's office that being unable to remember much from their appointment makes it possible to receive the care they need without added anxiety.
Will I feel any kind of pain while under sedation?
When receiving nitrous oxide or oral conscious sedation, you'll feel more confident knowing that you are less likely to feel any kind of pain throughout your visit. The reason is that once administered, your body's ability to experience or feel discomfort is suppressed. While more enhanced versions of sedation like oral conscious sedation help you to become more relaxed, you can expect your experience to be one of peace and comfort. If you do feel anything during your visit, it's likely to be pressure, not pain.